FM technologies for workspaces
2020-10-19
The coronavirus pandemic quickly and radically changed the approach of companies to office work, the consequences of these changes we see now, when Business Centers, offices, coworking spaces are being rebuilt to a new model of work, and facility management plays a key role in this process.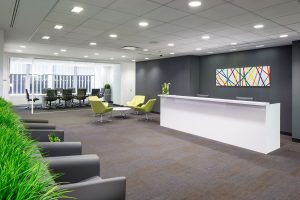 For complex maintenance of workspaces Facility management usually combines the following services:
Cleaning

Security

Maintenance
Additional services in this case can be catering, reception and postal services, supplies of stationery and other goods, as well as organization of the workflow (management of meeting rooms, preparation of meetings, organization of the workspace)
Automation
Increasingly, companies see a benefit in so-called integrated facility management, which is the integrated management of building operations to ensure the comfort and productivity of people in the workplace. Automation systems become an important assistant in this case.
For example, SHEN uses Prengi software in its work, which allows you to control work in real time anywhere in the world, simplifies communication, since all responsible employees are aware of the execution of tasks, the availability of consumables, copies of documents, at a certain level of access can monitor costs, work with requests, etc.
In developed countries, large companies use special programs to automate most of the processes associated with real estate. By installing the application on the phone, an employee can adjust the brightness of the lighting from a smartphone or tablet, book meeting rooms or work places, be aware of the availability of parking spaces, and order meals in the canteen. In connection with the coronavirus pandemic, the functions of a contactless elevator call, opening doors, and supplying water to toilets are added to such applications.
Air quality
This point is receiving more and more attention, including due to the ongoing epidemic. In recent years, business centers and office buildings under construction, for the most part, do not imply the possibility of opening windows, that is, the entire load in terms of air purity falls on the air conditioning and ventilation systems. In this case, it is important to choose the right filters that will purify the air as efficiently as possible, and more and more technicians are beginning to use ultraviolet lamps for air disinfection, ideally they must be installed inside the system so that cleaning can be carried out continuously and without harm to human health in the premises. …
Cleanliness and disinfection
In previous articles, we wrote in detail about modern methods of disinfection and cleaning of premises. We only note that the main function of cleaning premises is to ensure the health and safety of people. Non-contact technologies, such as touch-sensitive washbasins, light sensors, automatic doors, etc., come to the fore, and in order to prevent bacteria from lingering on surfaces, natural wood, textured plaster are no longer used when decorating rooms – that is, not smooth materials that can trap viruses and bacteria
In conclusion, we would like to point out that taking into account the current situation, complex service is the optimal solution for business centers and office spaces. This approach provides maximum protection for people and high efficiency for business.