Cleaning Services for Shopping Centers
As a market leader SHEN has multi-year experience in providing service for malls and entertainment centers throughout Ukraine. We perfectly know all features of functioning different areas and premises of shopping malls, and offer the first class service, friendly and qualified staff, professional equipment and detergents.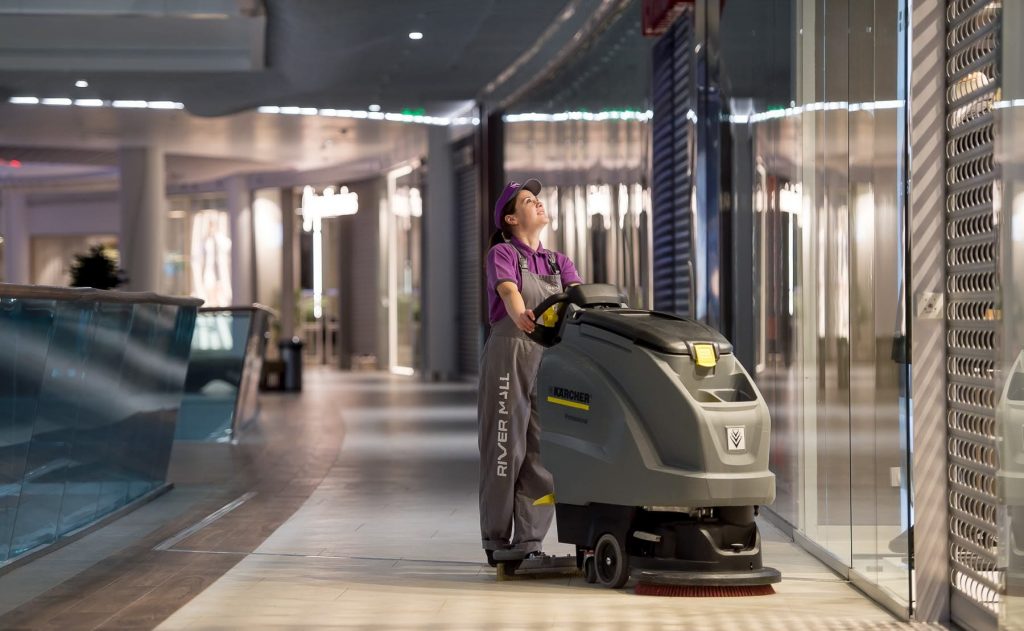 Shopping centers are no longer just a shopping place, as people visit them with their families to get new impressions, emotions and experience. Attendance and popularity of a shopping center or a shopping and entertainment center as a leisure place are constantly growing, which means that the amount of efforts to maintain cleanliness and order is growing too.
Handling these tasks on your own is becoming difficult and simply not profitable. After all, buying tools, cleaning products, renting and maintaining equipment, hiring staff take a lot of time and resources. The most profitable solution will be to contact a professional cleaning company with qualified staff and experience in working with commercial premises.
Types of Cleaning
In case of shopping centers, it is customary to distinguish the following types of cleaning:
Routine cleaning
Works at height
Maintaining surrounding areas
Deep cleaning
Dry cleaning
What Premises Are Cleaned?
The shopping center cleaning package includes all the premises located at the building:
Sales areas
Atriums, halls, stairs and other rooms intended for visitors
Toilets
Entrance space
Food courts
Utility and office rooms
What Does Shopping Center Cleaning Include?
To maintain cleanliness and provide comfortable conditions at shopping centers, it is necessary to perform the following works:
Routine dry and wet cleaning using special equipment, tools and professional detergents
Regular floor washing with scheduling that depends on weather conditions and flow of visitors
Cleaning windows and elevations using climbing equipment and skilled industrial climbers
Cleaning parking lots, lawn and path care
Collecting and removing garbage from bins, ashtrays, cans and containers
Deep cleaning of the entire building and premises in accordance with the agreed schedule
Cleaning scenery after festive events, seasonal sales
Dry cleaning of carpets, upholstered furniture and other fabric decorative elements
Benefits of Working with SHEN
SHEN, the leader in the facility management in Ukraine, offers comprehensive cleaning solutions for shopping and entertainment centers throughout the country. Our advantages are as follows:
Over 13 years of experience!
Services throughout Ukraine
Individual solutions for each client
Highly qualified staff undergoing trainings to improve cleaning skills in shopping centers
Customized automation system that makes the process simple, short and transparent
Quality control according to international standards
Risk insurance
The usage of an automated system of quality control ensures constant communication between facility managers and clients. With expanded checklists, we receive effective feedback from our customers and are able to respond quickly.
SHEN: Stay Focused on What Matters!